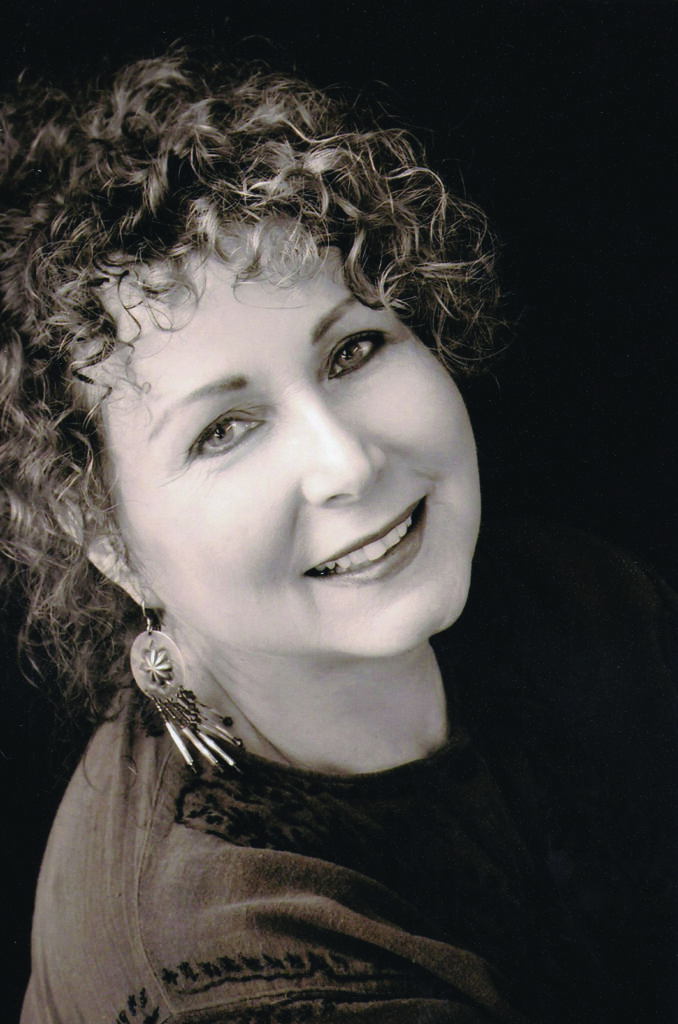 Welcome to my first blog post!
Today, I'd like to share my excitement about traveling in this amazing country. Setting foot in Morocco, you will find a treasure trove of awe-inspiring experiences. With its diverse landscapes, bustling cities, and fascinating culture, it's no wonder that seasoned travelers are drawn to this North African jewel time and time again. Whether you yearn to wander the labyrinthine streets of the Fes el Bali (founded around 800 A.D), marvel at the Islamic architecture of Marrakech, or embark on a camel ride across the golden dunes of the Sahara Desert, a carefully planned tour of Morocco can cater to your every whim!
Magical Moroccan Tours offers both pre-designed and custom itineraries to ensure you make the most of your journey. Our knowledgeable tour guides will provide insights into the rich history and culture of each destination, ensuring a truly immersive, educational, and memorable experience.
What locations in Morocco are a must-visit? Here are some highlights:
Marrakech, the vibrant Red City: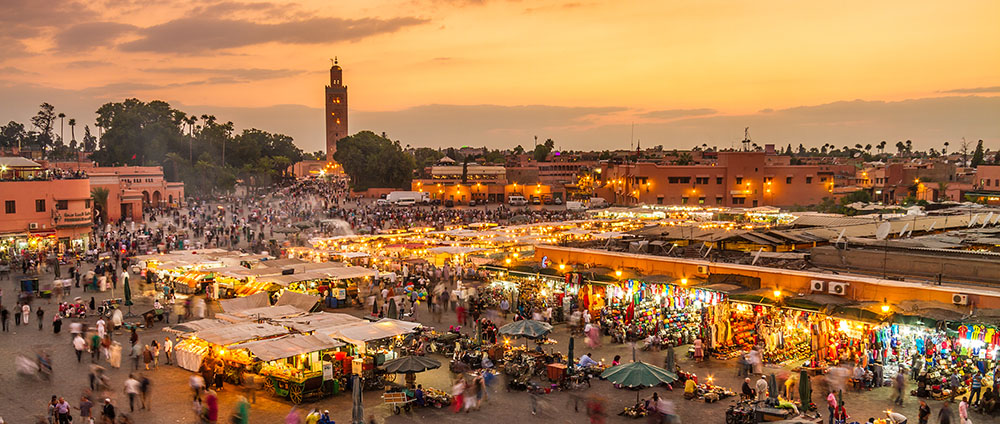 Marrakech, known as the Red City due to its distinct red sandstone atmosphere make it a must-see destination for any traveler visiting Morocco. As you navigate the maze-like alleys of the Medina, you'll be immersed in a world of vibrant colors, enticing scents, and the pulsating energy of the city. Our knowledgeable tour guide can help you truly appreciate the depth of Marrakech's history and culture, bringing the city's past to life. From the iconic Koutoubia Mosque to the enchanting Jemaa el-Fnaa square, our guide will ensure you don't miss any of the city's must-see attractions. If gardens are your thing, Jardin Majorelle will amaze you with its variety of plants from all over the world. There is also a museum that includes Berber history and an Yves Saint Laurent costume collection there. We would love to talk with about many other options to include in your Marrakech experience. Maybe even a hot air balloon ride!
Fes el Bali: A UNESCO World Heritage Site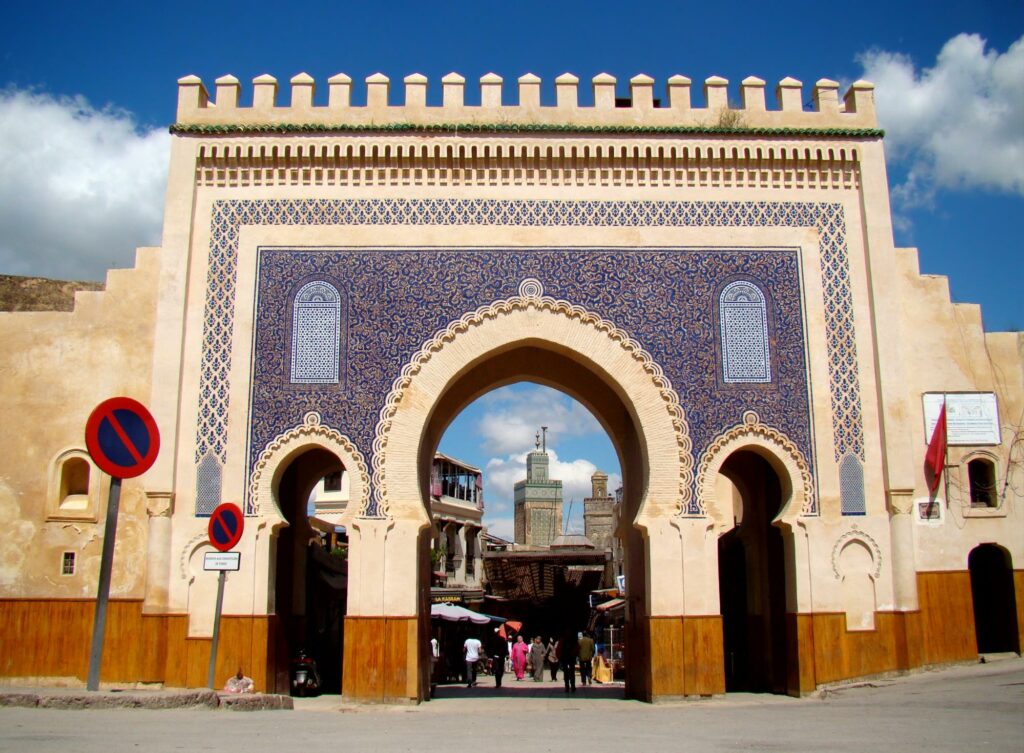 Stepping into Fes Medina is like journeying back in time. As one of the oldest cities in Morocco, considered the cultural center, and a UNESCO World Heritage Site, a visit to this ancient city is an essential part of any Moroccan adventure. Just imagine: A maze of narrow streets and alleyways. Traditional markets. A tannery that's 1000 years old (and the chance to purchase gorgeous leather goods while there). And the beautiful Mosques. Exploring this fascinating destination is best done with our experienced guide, who will provide insights into the rich history and culture, and help you navigate the labyrinthine alleyways filled with artisans, incredible restaurants, and historical sites everywhere you look.
The breathtaking Atlas Mountains: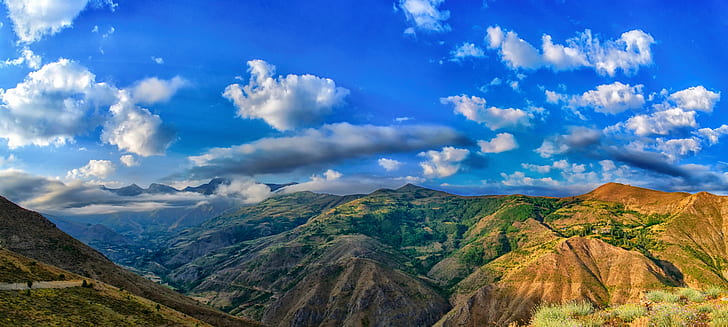 A Hiker's Paradise, the Atlas Mountains stretch over 2,500 km across Morocco, Algeria, and Tunisia, and offer a spectacular panorama that will leave even the most seasoned traveler breathless. With its plethora of outdoor activities including hiking, mountain biking, and rock climbing, the Atlas Mountains are a paradise for adventure seekers and nature lovers alike. Visit the incredible waterfalls of Ouzoud and Imlil, and marvel at Mount Toubkal (at 4167 meters, the highest mountain in North Africa). Exploring the Atlas Mountains is most effective with a guided tour, which offers an in-depth look into the region's history and culture. Along the way you will encounter beautiful landscapes, charming villages, and unforgettable experiences that will make your Moroccan adventure truly memorable!
The magical Sahara Desert: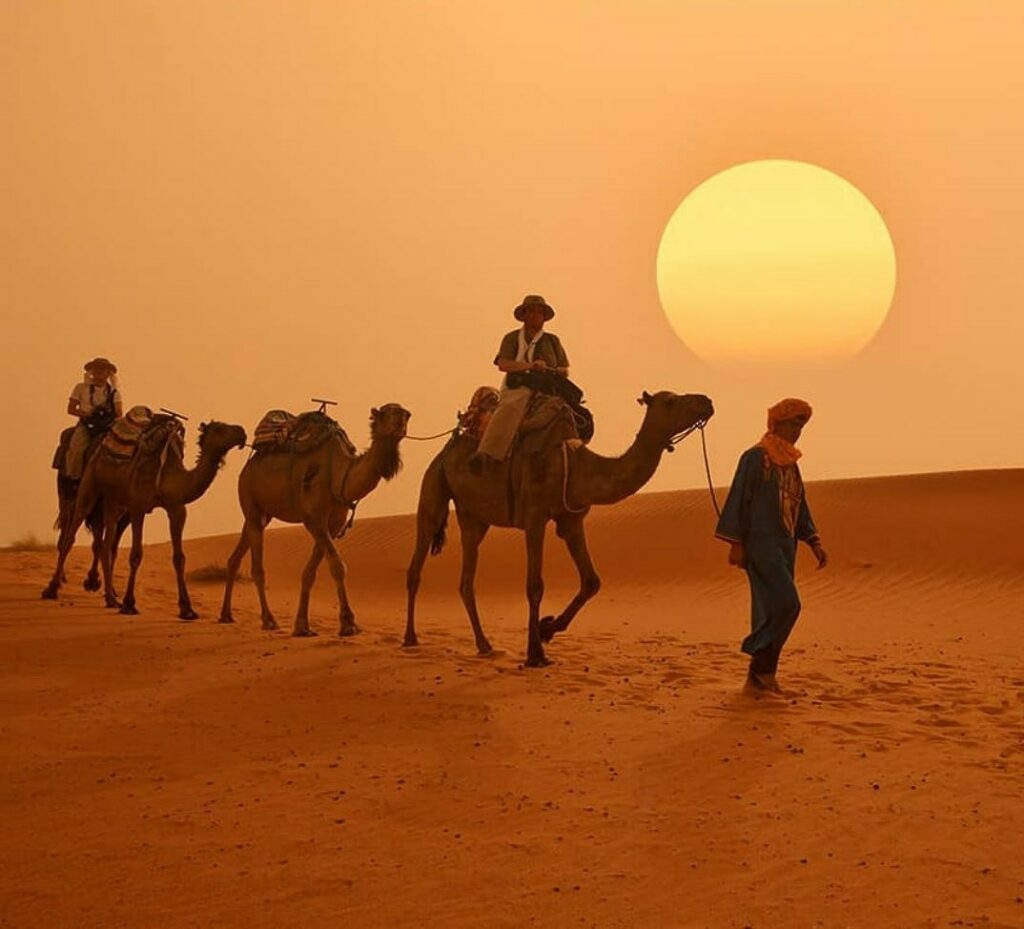 Experiencing the magic of the Sahara Desert is a must for any trip to Morocco. This sprawling desertscape of towering sand dunes and mesmerizing sunrises and sunsets offers a unique adventure that will leave an indelible mark on your memory. As you traverse the golden landscape on camelback, you'll feel a sense of awe and wonder at the vastness and beauty of the incredible changing colors over the dunes. The Sahara Desert offers a wealth of attractions and experiences that will make your Moroccan adventure truly unforgettable. Magical Moroccan Tours itineraries typically include: A night in a Sahara desert camp. A camel journey through the Erg Chebbi dunes to experience the fabulous sunsets and sunrises.
The laid-back vibe found in the beautiful city of Essaouira.:
Just 3 hours from Marrakech, this charming fishing town has a laid back vibe, is famous for wind surfing, artisan industries, and is designated a UNESCO World Heritage Site. It's known as the windy city of Africa as there is always a breeze. Enjoy a walk on the beach, and stroll the pier to see the iconic blue fishing boats. As the fisherman come in with their fresh catch of the day, you can pick what you want – and they cook it right there for a delicious meal! The town has several great restaurants, art galleries, Thuya word carving art/furniture, and activities like quad biking and horse or camel riding on the beach. An added treat is seeing the goats in the Argan trees on the way into town. And the sunsets are magnificant!
Chefchaouen: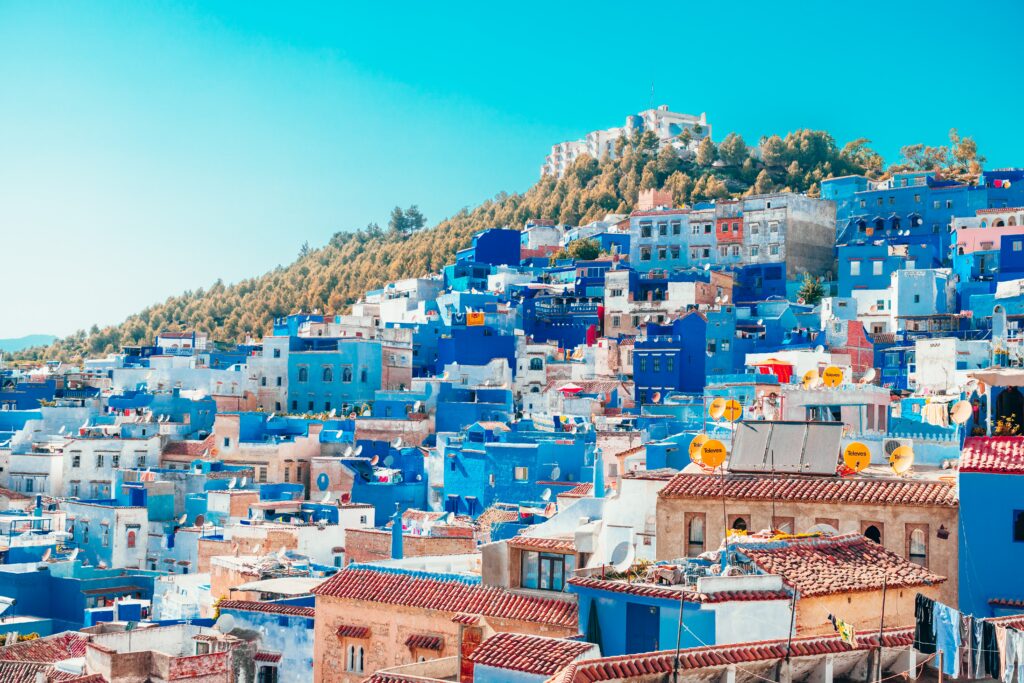 The Blue Pearl of Morocco, Chefchaouen is a city that captivates with its charm and tranquility. Nestled in the heart of the Rif Mountains, this city is famed for its blue-painted streets and buildings, a tradition that dates back to the 15th century. The vibrant blue hues that cover the city create a calming atmosphere, offering a peaceful retreat from the hustle and bustle of Morocco's larger cities. As you stroll through the narrow, winding streets, you'll be enchanted by the beautifully preserved Moroccan architecture, the friendly locals, and the stunning views of the surrounding mountains. Chefchaouen offers a variety of attractions for visitors. The city's medina is a UNESCO World Heritage site, filled with small shops selling traditional Moroccan goods. One can find everything from hand-woven blankets and rugs to spices and local crafts. Hiking enthusiasts will love the close proximity to Talassemtane National Park, a beautiful natural reserve that offers a variety of trails for all levels of fitness.
Moroccan Culture and Traditions
The captivating blend of Arab, Berber, and African influences make up Moroccan culture and traditions. This lively mix of customs, beliefs, and practices has been handed down through generations, making Morocco a truly unique destination. From the national symbol of Moroccan mint tea to the marvels of Islamic architecture, the country offers countless opportunities to immerse yourself in its rich cultural tapestry. Among the most fascinating aspects of Moroccan culture are the Berber villages, where visitors can connect with locals and learn about their traditions. By taking the time to explore these villages, you'll gain a deeper understanding of Moroccan culture and the people who call this beautiful country home.
Moroccan Mint Tea: A National Symbol
Moroccan mint tea is more than just a refreshing beverage; it's a symbol of hospitality and friendship. Prepared with fresh mint leaves, sugar, and gunpowder green tea, Moroccan mint tea is served in a traditional teapot and poured from a height to create a frothy top. This sweet, green elixir is an integral part of daily life in Morocco and is often shared among friends and family. Whether you're enjoying a cup in a bustling Marrakech café or a quiet Berber village, Moroccan mint tea is a unifying thread that connects the diverse people and landscapes of this enchanting country. As you sip this delightful tea, you'll be participating in a cherished Moroccan tradition that spans generations.
Islamic Architecture: Marvels of Design
Islamic architecture, characterized by its use of geometric shapes, calligraphy, and intricate patterns, can be found throughout Morocco in the form of mosques, palaces, and other public buildings. From the awe-inspiring Koutoubia Mosque in Marrakech to the Al-Attarine Madrasa in Fes, Morocco's Islamic architecture showcases the stunning craftsmanship and artistic vision of its creators. As you explore the country's architectural marvels, you'll be captivated by the attention to detail and the stories these buildings have to tell. By taking the time to admire the beauty and intricacy of Morocco's Islamic architecture, you'll gain a deeper appreciation of the country's rich cultural heritage.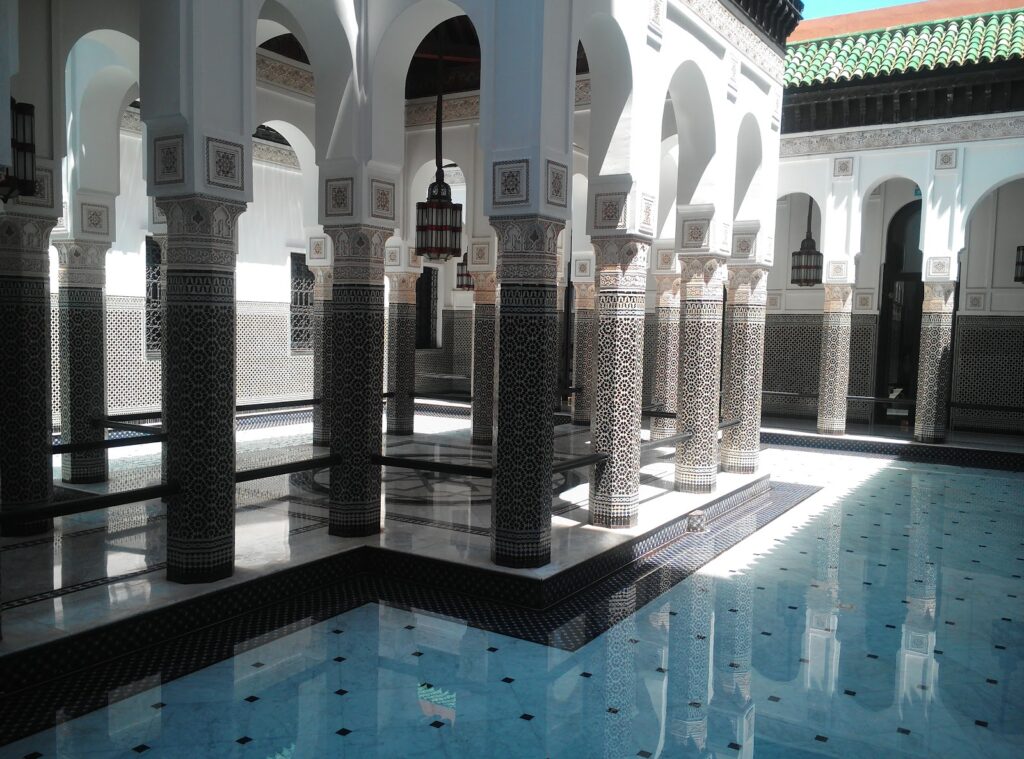 Berber Villages: Connecting with Locals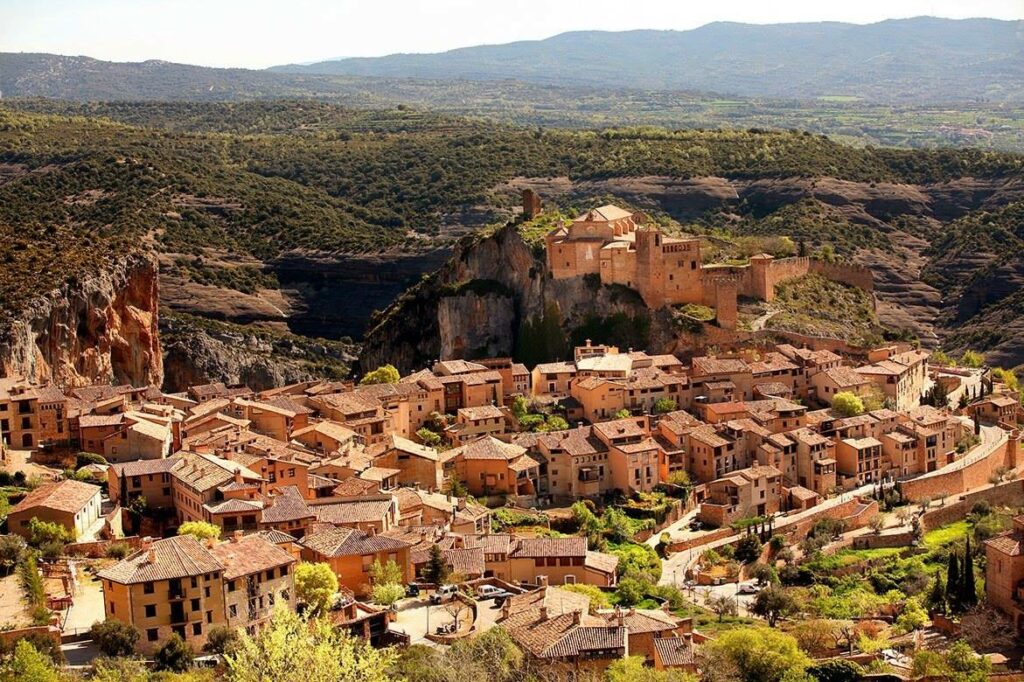 Nestled among the stunning landscapes of Morocco, Berber villages offer a glimpse into a way of life that remains deeply rooted in tradition. From their simple mud-brick homes to their vibrant markets, these villages provide a unique opportunity to connect with locals and learn about their customs and beliefs. By taking part in traditional ceremonies, purchasing goods from local markets, and engaging in conversations with the locals, you'll forge lasting connections with the people of these remarkable communities. As you immerse yourself in the culture of Berber villages, you'll come to appreciate the warmth and hospitality that define the Moroccan spirit.
Choosing the Right Morocco Tour for You
Choosing the right tour can be a daunting task with so many incredible sights and experiences to discover in Morocco. Thankfully, there are a variety of options available to suit every traveler's preferences and budget. From intimate small group tours to customizable itineraries and budget-friendly options, Magical Moroccan Tours offers a perfect Moroccan adventure waiting for you. Finding a tour that caters to your interests and needs is key, whether you're a seasoned traveler seeking a bucket-list adventure or planning your first trip to this beautiful country. By carefully considering the following factors, you can embark on a Moroccan journey that will leave you with memories to cherish for a lifetime:
• Group size.
• Duration.
• Activities.
• And of course, cost.
Small Group Tours: Intimate Experiences
Small group tours offer an intimate and personalized experience, enabling travelers to gain an in-depth understanding of a destination with the help of a knowledgeable guide. With a smaller group size, you'll have more opportunities to interact with locals, ask questions, and explore at your own pace. This type of tour is an excellent choice for those seeking a more authentic and immersive experience. Be sure to ask questions to ensure that the tour meets your expectations and budget. By choosing a small group tour, you'll be able to forge lasting connections with your fellow travelers and make the most of your Moroccan adventure.
Customizable Itineraries: Tailor-Made Adventures
When it comes to creating your own adventure, the possibilities are endless. With a customizable itinerary you have the option to select the destinations, activities, and duration of your trip. This ensures that your Moroccan journey is tailor-made to suit your interests whether you're a history buff, an outdoor enthusiast, or a food lover. By crafting a personalized itinerary, you'll be able to fully immerse yourself in the sights, sounds, and flavors of this incredible country.
Here are some ideas to consider:
• Join in on an art tour, where your guide will assist with discovery of the beautiful art found everywhere in Morocco. If you like, you can try your hand at creating your own art!
•Camp under the stars in the Sahara Desert.
• Visit the vibrant markets of Marrakech, and perhaps take part in a food tasting or a cooking class.
• Hike or horseback riding in the Atlas Mountains.
• Relax on the beautiful beaches of Morocco, or at a wine tasting in a vineyard.
• And here's another idea: if you have a special field of interest – you're an artist, for example – you could bring a group of like-minded friends and leave the tour planning to us!
Accommodations in Morocco:
From Luxury Hotels to Desert Camps
The accommodations where you'll rest your head at night is a key aspect of any Moroccan adventure. From traditional Moroccan riads to luxurious hotels and unforgettable desert camps, Morocco offers a wide range of unique accommodations to suit every traveler's taste and budget. Whether you prefer the charm and authenticity of a traditional riad, the indulgence of a luxury hotel, or the adventure of a desert camp, the choice is yours. By selecting the right accommodations for your Moroccan journey, you'll be able to fully immerse yourself in the country's rich culture and breathtaking landscapes.
Moroccan Riads: A Unique Stay
For a truly unique stay in Morocco, consider letting us book you in a room in a traditional Moroccan riad. These multi-story homes, characterized by their central courtyard and garden, offer an intimate and authentic experience that is quintessentially Moroccan. As you relax in the tranquil courtyard, sipping a cup of mint tea, you'll be transported to a world of charm and beauty. Riads can be found throughout Morocco, particularly in cities such as Marrakech and Fes. Many of these riads have been lovingly restored, blending traditional Moroccan architecture with modern comforts and amenities. By choosing to stay in a riad, you'll be immersing yourself in the country's rich history and culture while enjoying a one-of-a-kind accommodation experience.
Luxury Hotels: Comfort and Style
For those seeking more luxurious accommodations on their Moroccan journey, a number of 4- and 5-star hotels offer a more indulgent experience. Boasting world-class amenities, exquisite dining, and impeccable service, these hotels provide a haven of relaxation and sophistication in the midst of Morocco's bustling cities and sweeping landscapes. If you're in the mood for a little gaming action, many of these hotels include first-rate casinos! From stately city homes to opulent resorts, luxury hotels in Morocco cater to discerning travelers who appreciate the finer things in life. As you unwind in your plush surroundings, you'll be able to savor the unique blend of Moroccan hospitality and sophistication that defines these exquisite accommodations.
Desert Camps: An Unforgettable Night
For an unforgettable night under the stars, consider staying in a desert camp in the Sahara Desert. These unique accommodations offer an unparalleled experience, as you'll be surrounded by the golden sands and mesmerizing sunsets that define this breathtaking landscape. Desert camps typically offer a range of activities, such as camel rides, desert safaris, and cultural performances, providing a unique opportunity for both adventure and cultural discovery. As you spend your night in the heart of the desert, you'll create memories that will last a lifetime and experience the true magic of Morocco's Sahara Desert.
Essential Travel Tips for Visiting Morocco
With its diverse landscapes, vibrant cities, and rich culture, Morocco is a destination that will captivate and inspire. Being prepared with essential travel tips is important to ensure a smooth and enjoyable trip. Here are some tips to keep in mind:
Currency and Payment Methods
Morocco's currency is the Moroccan Dirham (MAD), which is divided into 100 centimes. The Dirham is valued at approximately 10% of the US dollar. So 10 Dirhams= $1. There are ATM's everywhere for exchanging your currency into dirhams. When it comes to payment methods, cash is king in Morocco, particularly in smaller establishments and rural areas. However, credit cards are accepted in larger hotels, restaurants, and shops. It's a good idea to carry a mix of cash and cards to ensure you're prepared for any situation.
Language and Communication
While the official languages of Morocco are Arabic and Berber, French is also widely spoken throughout the country. English is becoming more common, particularly in tourist areas and among younger generations. Even if you're not fluent in any of these languages, learning a few basic phrases can go a long way in making a positive impression and enhancing your experience. Our guides will be your translators as they speak Arabic, French, and English. *See our FAQ page for some key phrases. In addition to familiarizing yourself with the local languages, it's important to be mindful of cultural differences and to demonstrate respect for local customs in your interactions with locals. By taking the time to learn about Moroccan culture and traditions, you'll be able to connect more deeply with the people you meet and create lasting memories of your Moroccan adventure. *see our FAQ page
Safety and Health Precautions
Traveling in Morocco is generally safe, but it's important to take necessary precautions to ensure a smooth trip. Here are some tips to keep in mind:
• Be aware of your surroundings, especially in crowded areas. Keep your money and valuables in a zipped bag or wallet and close to your body.
• We advise drinking bottled water. Bring some Imodium just in case you need it.
• Wear comfortable shoes as many of the walking surfaces are uneven and sometimes rocky.
• Let us know if you have walking challenges, especially with stairs, as some places do not have elevators.
• Keep our contact information with you at all times in case you need to reach us.
• Bring your prescription medicines with you.
Morocco is a land of enchantment, where vibrant cities, sweeping landscapes, and rich culture come together to create a truly unforgettable experience. By carefully selecting the right tour, accommodations, and activities to suit your preferences and budget, you'll be able to immerse yourself in the magic of this North African gem. As you embark on your Moroccan adventure, let the sights, sounds, and flavors of this captivating country fill your senses and create memories that will last a lifetime!
Frequently Asked Questions
Why is Morocco famous?
Morocco is renowned for its captivating architecture and iconic landmarks, like the Hassan II Mosque in Casablanca, Bahia Palace in Marrakech, the ancient Roman ruins of Volubilis, and the expansive Sahara Desert. Morocco also has a diverse landscape that includes beaches, mountains, deserts, large modern cities, and small villages that take you back in time. Morocco is known for its cuisine, which features spices like saffron and cumin, mint, and olives. Couscous and tagines are their premier foods, as well as kabobs, soups, and delectable pastries. Cooking classes are available, so let us know if that would interest you. Wine tasting in Morocco is a great experience, as they create a variety of wines from the local vineyards grown in the perfect Mediterranean climate.
Can you drink alcohol in Morocco?
Yes, as long as it is purchased and consumed in licensed hotels, bars, tourist areas, or major supermarkets. While it is not illegal to consume alcohol in Morocco, it may be difficult to find outside of urban and tourist areas.
What is the difference between a riad and hotel?
Riads are typically smaller than hotels, with fewer rooms and more personalized touches, making them an ideal option for those seeking a more intimate experience. They are particularly popular in cities like Marrakech, Fes, and Essaouira.